So here's the deal: recently i've been asked to write
a fashion blog
for this really big Brazilian music portal (http://rraurl.com - for portuguese readers only), and I've been spending quite a lot of my energy in producing content for them. And one of the most recent ideas came through after I did those little posts about influential stylists in this very blog. Using rraurl's fame as my backup, I've int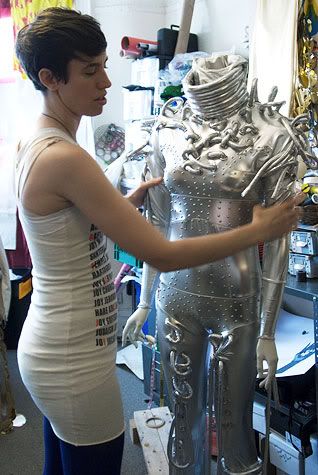 erviewed
Christian Joy of the YYYs
,
Fee Doran aka Mrs Jone
s of Kylie + Killers fame and London based artist
Alex Noble
, all coming out this month on that blog.

But since those interviews were only coming out in portuguese, I thought it was a shame to deprive English readers of the (brief, but interesting) insights into these amazing stylists, so I decided to publish them here as well in full.

So here's the first one (unedited, so please don't pay attention to typos and mistakes), with Chris Joy, the SUPER creative genius that's changing the face of indie rock with Karen O's costumes. En-joy :)

-----------------------------------------------------

1) i read that your starting point was when you worked in a vintage
shop. but did you had any idea in mind about

costumes when you set out to make clothes for karen o?
i actually
worked in a boutique for the designer daryl k and that is where karen
and i met. i've never worked in a vintage store. i had started making
one of a kind pieces before karen and i met and she saw a prom dress i
had made and approached me about making something for one of the yyy's
shows. i guess i had thought about making costumes before but i never
figured i'd have an outlet for it. basically the whole thing kind of
happened by accident.
2) i absolutely love the pieces karen has been wearing in this recent
tour / and promos for the new album.
seeing as each piece is very different from each other, does each one
has a story/idea of their own, or are they part of one
major story (as in a collection)? what's your favourite piece?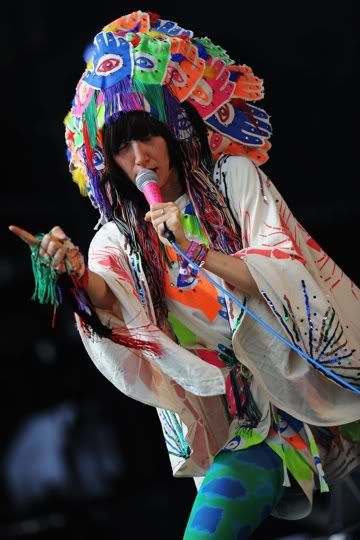 thank
you! my favorite piece is actually two different pieces that she
hasn't worn yet. i think she plans to wear them at glastonbury, so
it's going to have to be a surprise. i basically came up with a theme
once i had heard the record. i was feeling really inspired by eastern
religions, all of the imagery and symbolism . the eye symbol was
something i was feeling really strongly about and oddly enough so was
the person who designed the giant eye for the stage. so the eye has
become a major part of the designs for karen. i wanted all of her
costumes to have a touch more of a psychedelic feel to them than the
ones in the past which have been more pop. i felt like i was drawing
from a lot of pop imagery for the past looks. i've also been creating
a lot more prints for her new costumes. that is something i really
enjoy. i feel like they create a lot of energy on stage.
have special things and tricks that kick-start your imagination?
i guess i'll try to read books or look at artwork but i feel like the
ideas really kind of come out of nowhere. i do a lot of laying in bed
in the morning and just thinking and trying to imagine different
costumes. i always feel most inspired by tribal costumes or folk
costumes. there are always a lot of energy to them. i usually start on
a pretty simple idea and then try to see how far i can expand on them.
decided to go back to costumes and art.
do you think fashion doesn't give you space for creativity the way
music and art do? do you think you'll design another collection in the
future?


i definitely didn't feel like i could be as creative with
making collections. i always had this feeling of "oh i could make this
so much better and exciting" i guess maybe i couldn't figure out how
to combine the two. i also just don't find the process enjoyable. i
like to spend time on the pieces i make. i love all of the detailing.
people are always asking me why i don't make collections that look
like more like the costumes, but it would be too expensive and most
people just wouldn't wear it even though they like to think they
might.
5) what's your favourite bands / artists?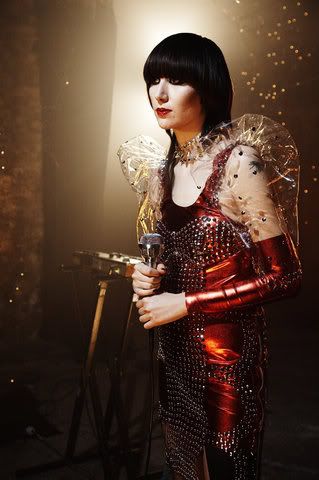 well, i'm a total nerd, the
yyy's are my favorite band. i also love this new band called the magic
squares. it kind of depends what kind of mood i'm in. i always love a
little bit of synth pop. today i've listened to prince, brian eno and
new order, so maybe that gives you an idea.
6) who is your favourite(s) fashion designer(s), and why?
once again
this depends on my mood. right now i really love
issey miyake
the
most. i love the shape of his clothes. i have a couple of books of his
work and all of the photos of the models in the clothes are so unique.
maybe it's due to the fact that none of the photos are airbrushed and
you can truely see the models faces. also the way the models are able
to move in his clothing is really amazing. i like big bold shapes and
that is why i like his work so much. i've also been really inspired by
kansai yamamoto
. he's pretty much a constant. i recently saw a show of
his work in philadelphia and i was really inspired by the colors he
used.
7) are there any people working in the same field as you that you
admire? or find interesting?
i really admire
maria cornejo who designs
the label zero
. i feel like her clothing is always so beautiful.. when
i go into her store and look at her work i always feel totally blown
away.
8) the pieces you make are really inspiring for people in fashion. do
you think designers borrow your ideas? have you
ever been invited - or been interested - in doing collaborations with

designers / fashion brands?
no i'd like to stay away from working with
other designers. i prefer to work on my own. i'm a bit selfish in that
way. i always feel like things get watered down when you start working
with too many people. there are too many opinions coming at you and
you're unable to create exactly what you want. the thing that makes my
relationship with karen o so unique is that i don't ever have anyone
telling me what i should make.
9) are there any artists you would love to dress?
i feel like i've already got the best one.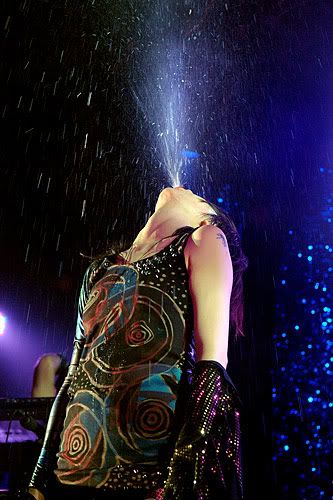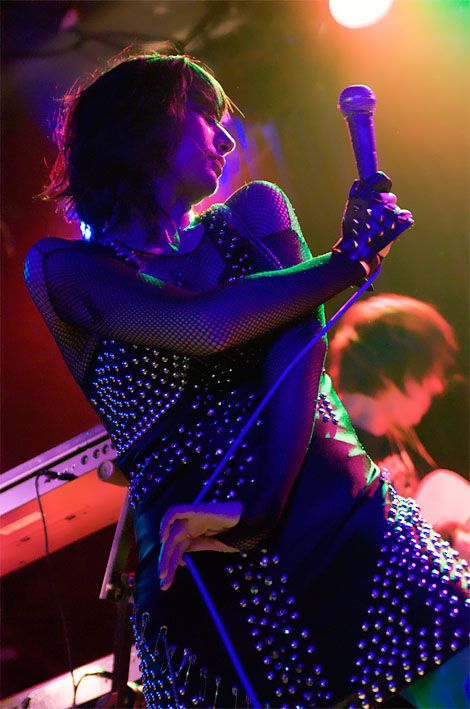 10) what are you up to now? any new projects?
mainly working on karen
o's new costumes for the tours. i 'm also working on new looks for the
klaxons. preparing to send some costumes to hong kong for an
exhibition in a store there called on pedder. i'll be showing 3 of
ko's old costumes as well as one new pieces along with 3 costumes from the solo show i recently did at the audio visual arts gallery here in nyc.