Yesterday was my birthday, and since I'm still very much banned from shopping, the Boyfriend said he would allow me to choose one nice fashion present. Oh god, ONE !? Damn, being in London it's like throwing a child in the best toy store in the world, and telling her to choose the most special doll. I panicked a little, but I kind of like thinking that my next purchases are going to be really special and cherished - if reckless shopping never had the best of reputations, doing such thing these days is at best silly, at worst plain stupid.
So I decided to give the high street a miss and have a look at some of my favourite local boutiques.
One was
STRUT, in Stoke Newington
, which I've said before it's bloody awesome for second-hand designer and vintage - and which sadly, didn't have anything I liked in my size - and then it was off to
No-One in Shoreditch.
I didn't know they had a store online, but it was a good thing I went there, because some of the labels available are not online yet. Like London - based
KapowWow,
a label that uses recycled textiles to make the coolest neckpieces. I very much wanted the grey one worn by the brunette model with the fringe, but maybe in a bright colour like red or electric pink. They also didn't have that specific piece in the shop but apparently you can email them and order one that suits your style.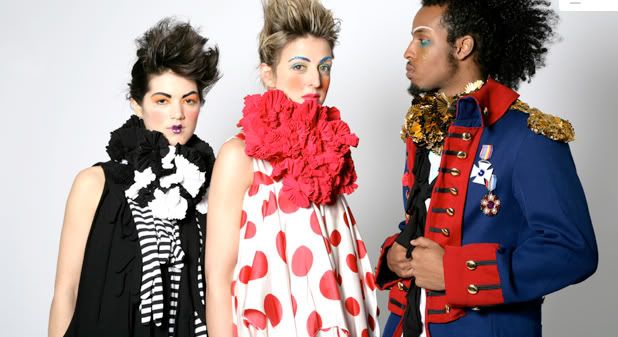 And being a sucker for bright printed leggings (am I ever getting tired of it?), I was drooling over London-based designer
David David
version, which I couldn't find a picture online to post it, but were in the same bright, geometric print as worn by Ms Dellal here.
Then, looking over his AW 9/10 afterwards, I saw the birthday present with the biggest potential: a very Vivenne Westwood-esque circa Pirates printed spandex jumpsuit.
I know, I know. I asked myself the same question: can I pull off a SKIN-TIGHT bright jumpsuit now I became part of that age-box called *late-twenties*? Oh, what the heck. I won't know till I try it right?
After No-one, we headed to Brick Lane to try the markets, but it was far too nice and sunny - and crowded! - to actually bother about scouring the shops, so I gave in and thought I might as well wait for a rainy day and shop online. After all, a thoughtful shopper is a slow shopper.