i swear i want to be more of a committed blogger, i do. it's not for lack of what to write about (well, sometimes it is... i don't want to simply give in to posts like "i want THIS, i'm gonna BUY THAT" - it bores me to death), it's just that sometimes *London* gets in the way of my blogging habit. I swear to god, as soon as they launch wi-fi on the public transport and keyboards for iPhones (haha), the life of every London blogger is going to improve massively.
anyway. I've been thinking about longer skirts and dresses that end below the knee for a while - it's a length I really want to wear, but have always feared because 1) i'm a bit on the dwarf side at 5"1', 2) it's a bit too, uhm, "womanly" for my taste. But for the past few weeks I've been feeling immediate boredom at the sight of a mini-skirt, so I decided to give it a go - specially since I've realized I have a couple of pieces in my own wardrobe that have never got an outing.
First, this Mango tartan full-flare skirt that I acquired in a trip to Mallorca years ago. I don't know why (well, I do: it's the tartan) but to me this skirt suddenly has a bit of an *Anglomania* vibe, which is obviously awesome.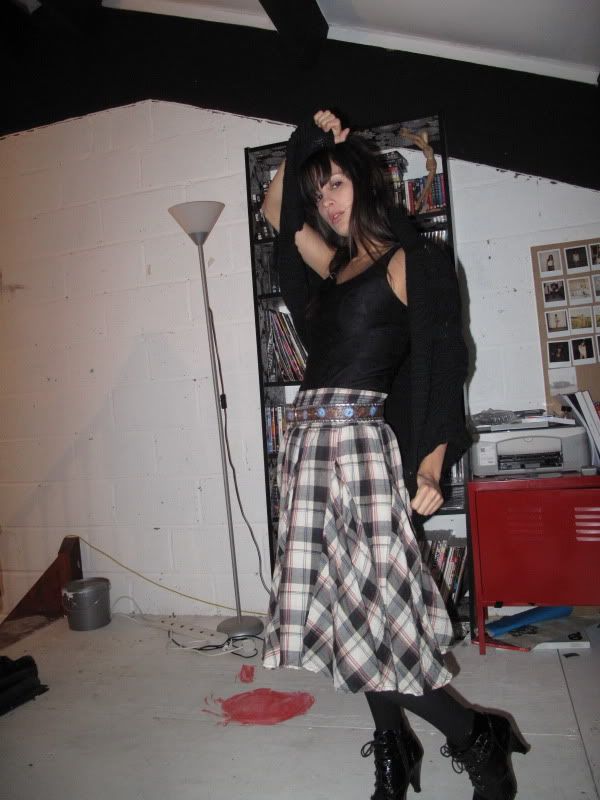 Then yesterday I tried the *longer lenght" again with this Paul Smith dress at the
SHOWstudio
exhbition at Sommerset House, Fashion Revolution, something I've missed during LFW, but was glad it's on till december. Got there around 5:30pm and luckily, there was hardly any visitors, which made for an extra enjoyable trip. Nick Knight's baby is all about fashion as an interactive and artistic experience, and I was hooked from the moment I stepped into the "mirror room."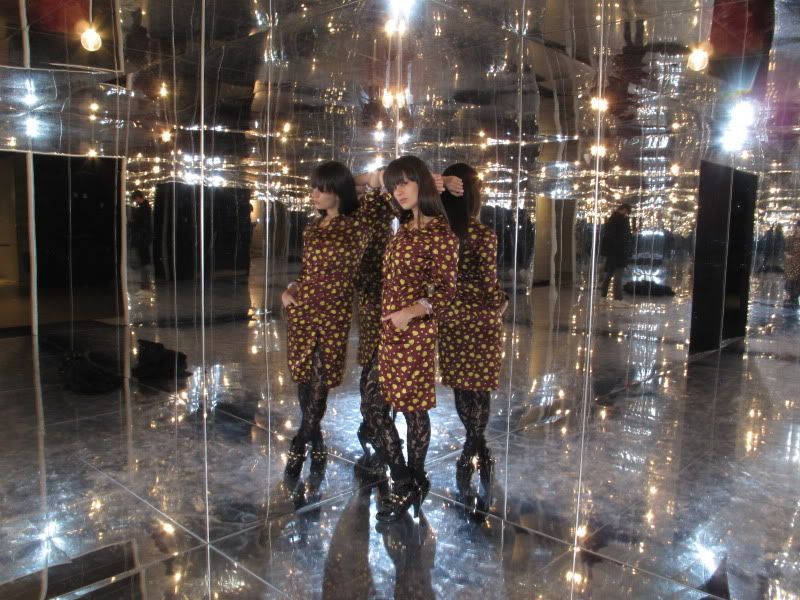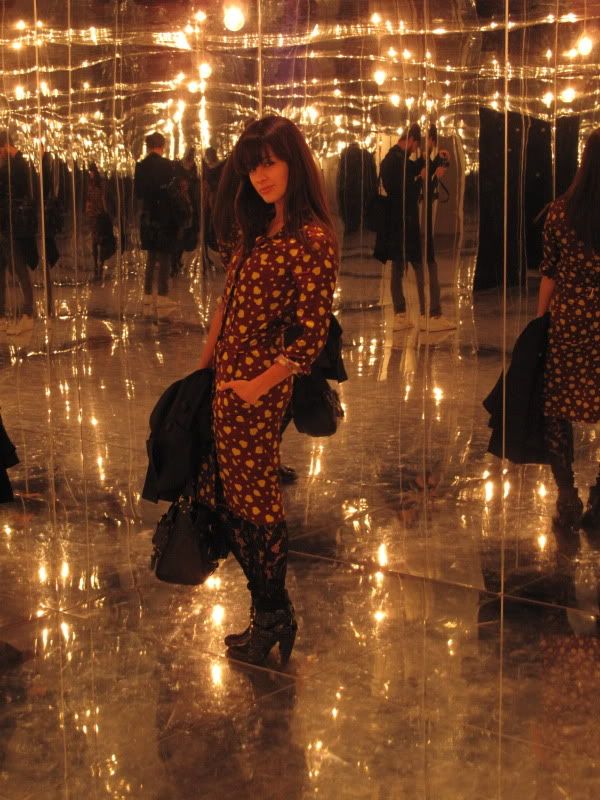 The rest of the exhibition follows the rule of interactivity and displays some of the best moments of the project, including those infamous *bride* video with Lee Mcqueen and the make-up one with Gareth Pugh (below), an in-house studio where real shoots happen, a giant statue of three *merged* female figures where you can draw virtually on it, and the results of
Design_download project
, where people around the world could make their own version of famous catwalk pieces by designers like Galliano, Watanabe, and Margiela (i LOVE this cut-out strips version of the Margiela pattern).
I say, even if you're NOT a fashion fan, this is unmissable - and a lot of fun!