I don't really like to throw things away. Although I'm not one of those desperate hoarders, I always try and look at clothes as potential material for experiments and improvements, and I'm not afraid anymore to tear things apart and see if they work in a different way. If it doesn't, then, oh well.
I've been doing alterations for most of the vintage dresses I sell on
my ebay shop
for a year or so now, and I've accumulating quite a pile of scraps of fabrics that I couldn't bring myself to throw away. Some of them had great prints on them, even though some were just cheap polyester, and I knew I had to use them in some way.
For a few months I kept thinking about some kind of eccentric accessory that I could put the scraps to good use, and one day I came across this picture in Grazia. A detached ruffled neckpiece! Seemed like the perfect solution!
Problem was, on top of my lack of decent skills, the fabrics I chose to work with were not nearly delicate and flimsy like the chiffon used in the Felder & Felder version above, so my collar came out much "wavier," more like a clown neckpiece. Not at all understated - which is cool, but it'll probably be trickier to wear.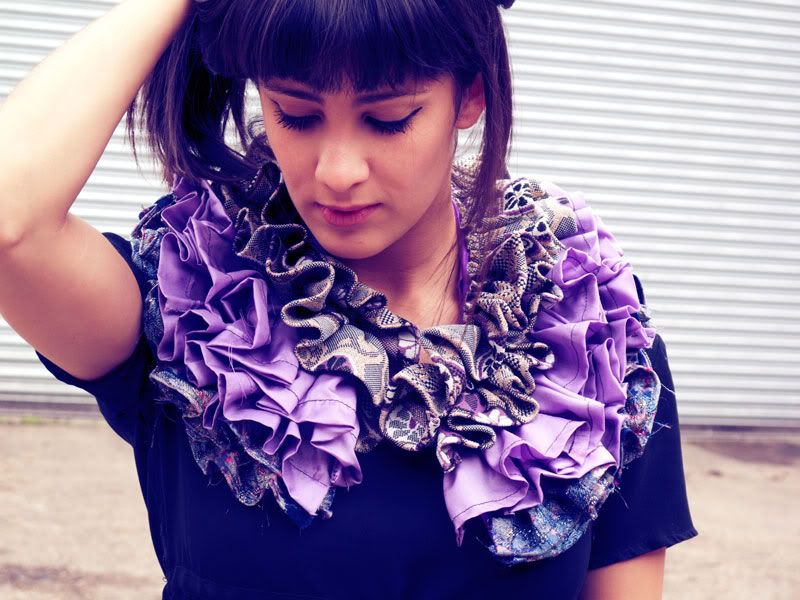 It's definitely far from ideal, but I think i'll be testing this idea another time - maybe in black, with chains or even studs on it? We'll see.