While this blog doesn't really talk about slebs and their papped outfits, we will make an exception today due to, well, exceptional circumstances. Mostly because A) Michelle Obama is not exactly a celebrity, but probably one of the most influential women in this planet, and B) her choice of garments mean so much more than simply setting trends - she is making history whenever she pulls something out of her closet.
And so it is that Mrs Obama this week chose to wear our very own London-based designers
Basso & Brooke
for the White House evening of poetry and music - if not the first "Brit" designers she wears since stepping to power (apparently she wore Jonathan Saunders and Richard Nicolls earlier this year), certainly the first Brazilian (as half of the duo is).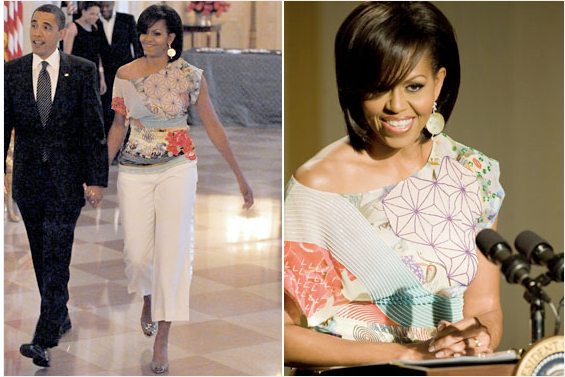 Why is this important? Not simply because she is so notorious and has great taste, but because it proves once again that she is a woman of her own mind when it comes to fashion, refusing to compromise. Basso & Brooke are well-known for their avant-garde prints and pieces that are feminine but edgy, chic but unconventional - concepts we don't exactly associate with women in politics, specially first ladies, until Obama came into the picture. She knows her position does not immediately obliges her to clad herself in tweed suits, pastel colours, and names associated with classy, safe elegance such as Chanel and Dior. Very much on the contrary: it's because she is in her particular position that she knows she can make a difference - and of all the areas she is working on, fashion is probably the easiest one with the quickest impact.
She also refuses to be manipulated by fashion PR's and does not take freebies (although she does have fashion advisers). She bought that specific top from her "local" Chicago boutique
Ikram
, one of Basso & Brooke stockists. In fact, this top was actually a dress from the SS09 collection, which was customised into a top. Who would know the first lady is into DIY?
In a world of bland, media-hungry, PR controlled celebrities that use fashion to be in our faces all the time, it's nice to see a woman with this kind of exposure treating fashion the way it should be: an important feature to demonstrate your own unique view of things, but not as crucial as it should take over your whole personality and your other interests in life.
We heart Michelle Obama.